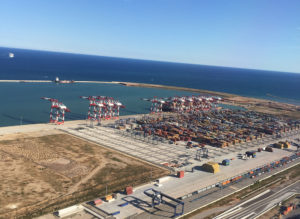 For the third consecutive year, I had the privilege of attending the EMEA Supply Chain and Logistics Summit in Barcelona. Actually, the previous two years covered only the European market, with the Middle East and Africa coming in as new areas of focus at this year's event. This was highlighted by a new stream called "Leveraging the Global Economy" which in part focused on strategies for expansion into developing markets. Other areas of emphasis in this year's program included supply planning and optimization, designing value chains for the future, using technology to enhance competitiveness and harnessing logistics to satisfy customers.
When addressing the question, "What are the main takeaways from the event?", my answer would have to be, "It depends." I attended 27 separate keynotes and workshops that covered various topics along the value chain, from supplier relationship management all the way over to customer satisfaction. That being said, the sessions I attended represented just 40% of the total content being delivered over the 3-day event. However, based on the information I gathered, my top 3 takeaways summed up in three sentences are:
#1 – Learning does not stop after University, but rather is a continuous process that, when properly leveraged, can help supply chain professionals and their firms remain competitive and keep pace with the latest industry developments.
#2 – Customers are more empowered today than ever before which requires supply chain managers to reassess their operations and look at things from an outside-in perspective.
#3 – It is time for supply chain managers to begin acting as change agents within organizations and foster cross-functional sustainable relationships in order to improve planning and optimize customer service.
After speaking with many delegates and browsing the event app, several additional common themes came to light:
Flexibility and Adaptability
One of the topics that really dominated conversations throughout the event was supply chain flexibility, and this was confirmed in the poll results of attendees at the end of day one.
In his presentation, Martin Christopher, of Cranfield University, argued flexible supply chains can be used to cope with complexity and the changing operating landscape. Supply chain complexity is on the rise due to increased outsourcing, globalization of supply networks, increased consumer demand, shorter product life cycles and organizational growth through mergers and acquisitions. The supply chain landscape is clearly shifting on both the supply as well as the demand side, and companies must be able to adapt to their surrounding environments or risk collapse.
Specifically, Christopher suggested a shift in thinking, away from optimizing based on cost minimization, and instead investing in solutions that maximize responsiveness. Exploiting new technology such as rapid manufacturing as well as focusing on economies of scope rather than economies of scale are two areas that can help lead to structural flexibility. Furthermore, he suggested that asset sharing and the entire idea of the "Shareconomy" can also create a more agile, flexible and responsive supply chain, stating, "We don't need to own things, we just need access to them." This would of course come in handy if a manufacturing company experiences a sudden peak in demand for which it has no capacity. The ability to turn to a partner within the "Shareconomy" to fulfill the short-notice demand would serve as a significant competitive advantage. It is this flexibility that today's complex supply chain operations require.
Collaboration
As seen in the tag cloud above, collaboration was also a leading point of interest at the event this year, not only on the first day but throughout the conference. Delegates were offered a diverse set of keynotes and workshops that covered both the internal and external aspects of collaboration.
Internal Collaboration
In her presentation, Jeanne Reisinger, Global Supply Chain Consultant at TRACC, encouraged her audience to "Design it in", referring to the integration of the supply chain function into all four stages of the product lifecycle: design, conceive, realize, service. In essence, it is important for the supply chain function to influence product decision-making further upstream, which of course requires closer collaboration with other departments. For example, in the conceive stage, this would mean working closely with Research & Development to discuss potential raw materials requirements as well as various other product characteristics that will in the end, influence the sourcing strategy and how the product is distributed. In the design phase, supply chain managers should work closely with manufacturing with the objective of creating a globally standard process and production model that can increase the speed of innovation and enable 'speed to market' capabilities around the globe.
The main takeaway from this session: The earlier supply chain managers are involved in the product lifecycle, the fewer headaches there will be when it comes time to distribute new products across a global network.
External Collaboration
We were reminded by event Chairman Mark Miller about the lesser known definition of collaboration: "traitorous cooperation with an enemy." The less intense way to refer to the subject is "horizontal collaboration" and Oliver Philipp from Panasonic shared his experience with a relatively new European Union funded project called NexTrust. The project has brought together 31 companies in order to drive collaboration within the logistics industry through the development of a transport system that is resource efficient, environmentally friendly, safe and respectful of competition law. Through collaboration, companies can become more flexible with their shipping strategies. With more transportation collaboration, less trucks will be on the road, which means less road maintenance across the EU, one of the many reasons the EU had for funding this project. Here a brief overview of NexTrust:
NextTrust Introductory video from NexTrust on Vimeo.
Panasonic has already realized some benefits through taking part in several of the Nextrust pilot projects. For example, through the cross-shipper full truckload collaboration project, Panasonic has received data from 17 shippers open to collaborating and several synergies have already been identified.
Customer is King
As stated in one of my top 3 takeaways above, customers are empowered today like never before. Price comparisons and internet customer reviews are available at the click of a mouse. Increased customer demand has led to greater complexity in supply chain planning. For this reason, it is important to understand what exactly these customers want and identify their buying behaviors.
According to John Gattorna, supply chain thought leader and author of the book Dynamic Supply Chains: How to design, build and manage people-centric value networks, "The only way to reduce complexity is to look at the supply chain from the outside-in." There is no one-size-fits-all strategy and it is important for supply chains to be responsive to the various buying behaviors found in differing customer segments. Gattorna identified 5 dominant buying behaviors: Collaborative, Transactional, Dynamic, Project Accumulation and Innovative Solutions. Each behavior requires a different supply chain design. A lean supply chain strategy can be implemented for transactional buying behavior as demand is mostly predictable and regular deliveries are required. However, implementing a lean supply chain strategy for dynamic consumer behavior could lead to disaster as demand is less predictable and deliveries more sporadic. For this reason, a more agile supply chain design is required.
Gattorna stressed the importance of forming multidisciplinary teams, spanning across manufacturing, logistics, marketing and sales in order to properly address these various buying behaviors.
Technology and Digitalization
No supply chain event summary would be complete without mentioning the buzzwords Big Data, Analytics and the Internet of Things. During a presentation by former Google Executive Christian Baudis, we played a round of "Digital Scrabble" looking at a number of combinations of devices coupled with internet services. We were shown the combination of brain reading technology and drone use as well as smart socks that use chips to communicate with joggers and provide advice for their next run. Baudis also talked about the impact of the internet and data collecting chips on the health industry as he presented a silicon patch that is being developed that can currently replace a number of devices found in a doctor's office. After the round of "Digital Scrabble" was finished, I think the majority of audience members were unsure if they should laugh, cry, or run out of the room to build a bunker in preparation for the robots that will be taking over the world. At the end of his presentation, Baudis provided the audience with 3 success factors needed in the digital age:
Know about the available devices
Understand the power of connectivity
Use available data for prediction and decision making
Education is key in the digital age. Those companies that are unwilling to learn and adapt to the new connected environment will be left behind.
Closing thoughts
I like to end these event reviews with several quotes to note that are in line with the key takeaways:
"Supply chains are driven by people. They are not driven by technology. They are not driven by assets. They are driven by people making strategic decisions" – John Gattorna, Adjunct Professor at UTS Business School
"The best decisions are those that keep the most options open." – Martin Christopher, Emeritus Professor at Cranfield Universtiy
"You need to be able to understand your customer in order to deliver premium service" – Marteen Cornelissen, Chief Supply Chain Officer at Ahrend
"Knowing where materials come from is vital…Nobody wants to be associated with a company involved with child labor." – Kirstie McIntyre, Director Environmental Responsibility EMEA at HP
I would like to take the opportunity to thank Industry Dynamics for bringing together 500+ top supply chain and logistics experts. In my opinion, there is no better way to take the pulse of an industry than face-to-face conversations and learning from others. The second Chairman of the event Tim Hourihane, in his closing remarks, challenged the supply chain professionals in attendance to stop talking about what they learned and start acting, with the goal of coming back next year to present their results. I hope to see you there!
What are some other trends you have noticed so far in 2016? If you were at the event, what are your top takeaways?