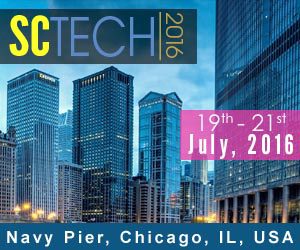 Some of you may have already noticed the banner on our blog homepage and the new events section on the site. If not, be sure to have a look before you go. We are cooperating with a few events this year as media partner and hope to connect with as many of you as possible during our travels. The Supply Chain Technology Conference and Expo, also referred to as the SCTechShow, is one of those events. The conference is being organized by The International Supply Chain Education Alliance (ISCEA) and will take place from July 19 – July 21 at Navy Pier in Chicago.
The SCTechShow is designed as a thought leadership, education, career and hiring fair and aims to bring together supply chain and logistics professionals from across the globe. Cutting edge supply chain technology and best practice operations management will be on display across the 3-day event schedule. A diverse offering of workshops, keynotes, seminars and competitions will provide attendees with a wide array of opportunities to connect with industry experts and expand their knowledge in the supply chain and logistics arena.
Educational Workshops
Several workshops are being offered which are designed to help professionals deepen their understanding of best practice supply chain strategy. For example, David Simchi-Levi and Thomas Roemer will be conducting the MIT Supply Chain Strategy & Management Workshop. This workshop spans across the first 2 days of the event (July 19 – 20) and is designed for senior leaders in manufacturing, product development, purchasing and distribution. Topics such as risk management, strategic sourcing and inventory management will be covered. More information on this workshop can found here.
Another exciting workshop is being held by Lora Cecere from Supply Chain Insights. In this class, diverse case studies, financial benchmarking tips and a new supply chain simulation game will be introduced. This two-day training program will also help managers focus on the metrics that matter for their operations.  Read more and sign up for Lora Cecere's workshop here.
Keynotes
The SCTechShow conference stage will feature top industry professionals across the entire three-day program. On Day 1, for example, at 10 am Carol Ptak will be taking the stage to discuss the importance of creating demand driven supply chains. Another keynote I am particularly looking forward to is on Day 2 at 9am and covers the topic of the Internet of Things and its impact on supply chain management. Immediately following that presentation, Christoph Lenhartz will take the stage to discuss how effective supply chain management strategies are key to the Industry 4.0 movement. Alan Todd from CorpU will be presenting on Day 3 at 3pm and will discuss the power of learning science and its impact on end-to-end supply chain performance. In total, 24 keynotes are planned for the Stage 1 SCtechShow track.
Competitions
The ISCEA has set up 5 competitions for the innovative minds within the supply chain industry. One example is the Mr. Pick and Pack Robotics challenge. Participants were asked to create a robotic application to pick and pack irregular items from a warehouse shelf. Additionally, the SCTech Hackathon is designed to bring together computer programmers and software developers for the purpose of creating an entirely new app the will help supply chain managers address existing operational issues. Furthermore, the SCTech Start-up Mania will provide entrepreneurs looking for Angel Investments or Venture Capital with a stage to pitch their ideas.
See you there?
Aside from the informative workshops and keynotes, several other opportunities for networking with industry experts are included in the agenda. This event represents an exciting opportunity for myself and the ISCO Blog as a media partner. It is also a great opportunity for supply chain and logistics professionals to come together and exchange best practice strategies in an effort to move our industry forward.  If you are interested in attending or want to book a workshop or attend a networking event, the ISCEA is providing our readers with a 10% discount on the overall purchase price. Simply use the code ISCO when you are checking out on their website.
Please do not hesitate to get in touch (david.weaver@inform-software.com) if you are interested in conducting an interview at the event. We would be happy to include you in our blog series "Supply Chain – Ask an Expert". To find out more about the SCTechShow you can download the complete event catalog here. If you are unable to attend, or want to keep up on the main highlights of the show, be sure to follow @SCTechShow, @Weaver_davidw and @ISCOblog on Twitter. Hope to see you there!