Frustration, insufficient information, and a lack of co-operation can ultimately lead to an unnecessary supply chain crisis – putting your brand reputation at risk.
Procurement and supply chain leaders face common problems on a daily basis when it comes to supplier and contractor relationship management:
Poor performance… of your contractors leaves you unsure who you can trust to complete a job to the required standards.
Incidents on site… leaves you with a difficult situation to manage, the associated paperwork and the responsibility to justify the choice of contractor.
Lack of control over contractor selection… in your organization, meaning the quality of compliance falls.
Lack of central supplier information… resulting in duplicated spreadsheets, contact details and slower decision making.
Complex, time-consuming processes for managing supplier lists… leaving you frustrated and making it difficult to meet deadlines and objectives.
Difficulty sourcing good quality new contractors… meaning you rely on the same, unreliable contractors as before.
Supply chain management is time-consuming and hard enough as it is, without unnecessary problems popping up, like the examples above.
An approach that may be able to help negate these problems, however, is simpler to implement than you think.
Compliance is often used as a mere box-ticking exercise, even in some of the biggest national organizations. But embracing compliance holistically in your supply chain and procurement processes can help make your job and life a lot easier – and this can be done by implementing three key compliance steps:
Step 1 – Checking capability
Evaluating the capability of your suppliers gives your business a clear indication of their skills and experience to proceed with their products or services. Failure to do this could result in employing a company that cannot maintain the high quality of service you expect, putting your company and supply chain in danger of falling below standards. You should check:
INFORMATION – The information you gather from your suppliers through pre-qualification questionnaires (PQQs), as an example, should include any necessary details about the job requirements and the supplier's capability to carry out the job.
VERIFICATION – Often referred to as 'pre-qualification', this stage is about being convinced and having the proof that the supplier has the capability to meet your strict health and safety demands.
AUTHORIZATION – After providing suppliers with the go-ahead to work with you, authorization is about ensuring they complete the specific task you assign and do not extend their remit by their own accord.
Step 2 – Better supplier management
The job of managing compliance extends well beyond the basics of information and evidence gathering for authorization to work. Ongoing management of suppliers is required to ensure adherence to contractual compliance. For new and existing suppliers, you should be giving them the relevant policy, rules and specifications to help them follow the rules:
POLICIES AND RULES – Ensuring suppliers know and follow rules and regulations is just the start. You need clarity that they also have read your policies and understand every part of them.
CONTRACTS AND SPECIFICATIONS – Details need to be recorded and measured to ensure suppliers are completing the work you expect of them, and have the internal processes in place to fulfil the contract on a long-term basis.
CONTROLS AND RESTRAINTS – These are key to ensure suppliers do their work, and do not pursue 'odd jobs' that could put them at risk and your business in trouble.
Step 3 – Monitoring your suppliers
To ensure that your suppliers abide by your contractual agreements and meet their targets, you need to have a system in place to monitor their progress. This can be in the form of an audit, which will assist in identifying areas for improvement; it can also assess the performance of your suppliers, which is crucial to maintaining high standards. Here is how behavior, audits and KPIs can help you monitor your suppliers:
BEHAVIOR – Physical monitoring of suppliers, such as spot checks, provide a greater sense of knowledge that you would never have collected from an assessment.
AUDIT – Audit systems ensure that your team can regularly check the compliance of suppliers, the provision of resources and the ability to continue serving.
KPIs – Key performance indicators are practical and objective measurements of progress and should be used with every supplier. This makes auditing easier to do.
Closing thoughts
While these three steps may seem simplistic, many organizations still fail to carry them out, resulting in supply chain management issues.
In addition to assuring compliance, these steps can help iron out any problems with suppliers or contractors throughout the lifetime of their relationship with you.
Question – What is your biggest challenge when dealing with your supply chain contractors / suppliers?
---
Guest Blogger – Gary Plant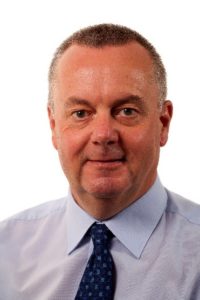 Gary Plant is Managing Director at Altius. Altius is a leading supply chain and vendor assessment solutions company that works with national organizations including supermarket Morrisons, Selfridges, Arcadia Group, Superdrug and Trust Inns.
---
Header Photo: ESB Professional/shutterstock.com
Photo in text: Duncan Andison/shutterstock.com