I received a significant amount of feedback regarding my most recent article on the topic of supply chain sustainability, so I decided to follow-up on some of that feedback and continue the conversation on this trending topic. My attention was directed to some insightful figures on consumers' stance regarding ethical supply chain practices.
The research was conducted by Software Advice, an online platform that helps people find the right software for their organization. The company recently conducted research regarding consumers' willingness to pay more for certain ethical supply chain practices. These ethical practices include initiatives along the same lines as many of the initiatives we are seeing in the headlines from top brands regarding supply chain sustainability: reducing carbon footprint, reducing water waste, improving working conditions, and so on. I decided to feature this research because it directly addresses one aspect I referred to in the previous article that threatens the "sustainability" of these initiatives: higher costs to end-users.
The Price of Ethics
Within the framework of this research, a series of surveys were conducted with over 1,137 respondents. The first survey addressed the consumers' stance on whether they would be willing to pay more for improvements in 3 critical supply chain links: good working conditions, carbon emissions offset and ethically sourced material. The respondents were split into three different groups and were asked how much more they would be willing to pay for a product originally priced at $100 given the implementation of ethical practices at one of the aforementioned supply chain links. The aggregated responses are as follows: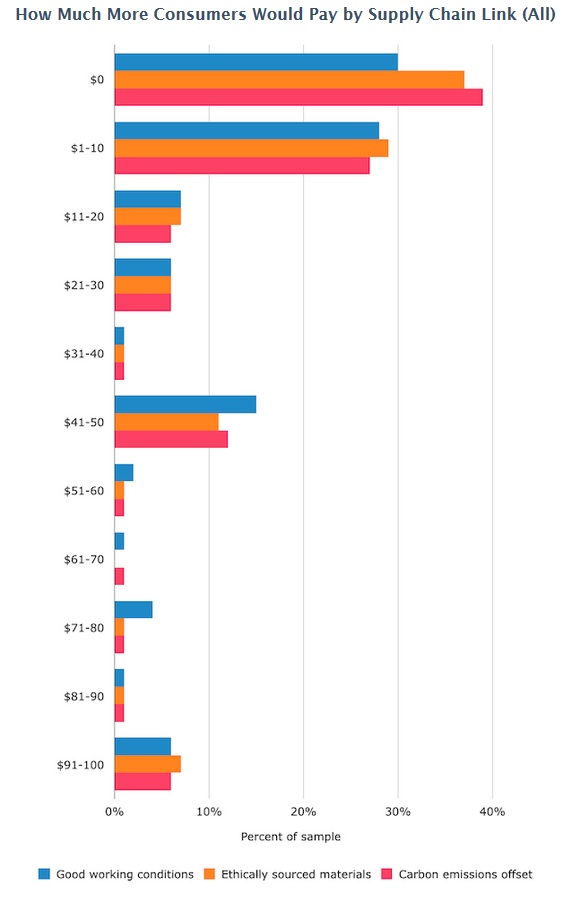 This graph shows that, in total, approximately 35% of all respondents would not pay a penny more for a product manufactured under one of these initiatives. Looking specifically at the aspect of ethically sourced materials (orange bars), nearly 65% of the surveyed consumers would be willing to pay only $0 – $10 more for a product produced with ethically sourced materials, and approximately 37% would not pay more at all. Despite a willingness to pay an average of $18.50 more ($12 after adjustments for bias) for an ethically sourced product costing $100, the 37% of respondents indicating zero willingness to pay more cannot be ignored. Just looking at the extreme: having 37% of a customer base search for cheaper options due to increasing prices could be detrimental to business. For me, this indicates that companies will have to continue to pay close attention to costs while exercising their sustainability initiatives, as some consumers seem hesitant to pay more for ethically sourced products, and other initiatives in general.
However, as I mentioned in my previous article, not all of these sustainability initiatives will cost companies more money, and in fact, money can be saved if implemented correctly. Take the initiatives from IKEA as an example. Through the phase-out of wooden pallets and the introduction of new loading ledges, IKEA was able to cut its CO2 emissions by 75,000 tonnes while saving on transportation and labor costs.
The Environment
A separate survey in this series focused more on specific environmental aspects of supply chain processes. The respondents were asked what environmental efforts would convince them to pay more for a product. The results are as follows: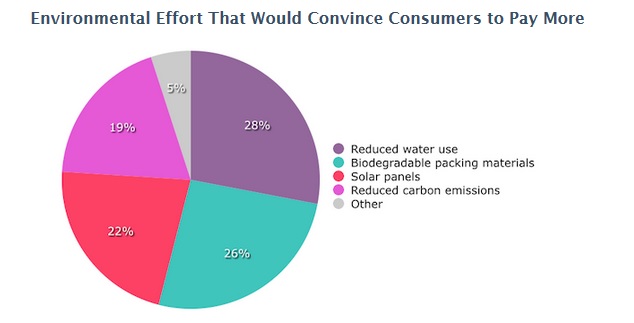 Reduced water use and implementation of solar panels are the top environmental initiatives that would convince consumers to pay more for a product. The option for open-ended responses was given and is represented in the 5% of "other" answers. One very interesting open-ended response included "I am not into the whole environmental insanity."
Social Efforts
Moving from environmental issues to social issues, another survey in the series asked the same respondents what community involvement efforts would convince them to pay more for a product: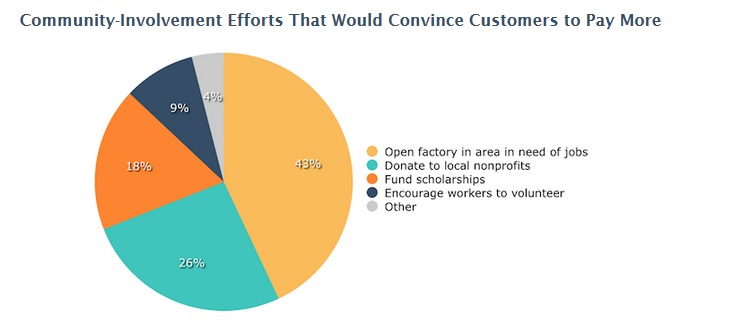 It is clear that the creation of jobs is important to consumers, as are being charitable and supporting local social efforts.
Final Thoughts and Recommendations
I believe this research is a step in the right direction. The question of "do consumers really care?" regarding sustainable and ethical supply chain efforts by companies, is not easy to answer. This survey provides some good insights and serves as a great starting point (the original full report can be read on the company website).
The topic of supply chain sustainability seems to be quite polarized. On the one side are those willing to open their wallets and spend whatever it takes to obtain an ethically sourced product from a sustainable supply chain. On the other side, there are the consumers that are looking for products at the lowest price possible who give no thought to the process behind the product being purchased. Companies find themselves right in the middle of these two extremes and are given the task of providing affordable products (keeping costs low) that were sustainably and ethically sourced (improving image). This is no easy task.
This research has potential to be built upon. For example, I believe responses to these questions would vary from country to country, or even between different regions within the USA. Therefore, a type of comparison study could provide further insights into this topic.
Additionally, I believe there could be some generational differences regarding willingness to pay more for a product that makes its way through an ethical and sustainable supply chain. Millennials for example, (customers ranging in age from 18-34) have been closely linked to "cause-related purchasing" while shopping for groceries.
This leads me to my final point: I believe a consumer's willingness to pay more is somewhat dependent on what they are buying, hence the need for industry-specific research. Also, in my opinion, there is a difference between buying an item for $100 and an item for $10. A lot more thought is typically put into a buying decisions regarding a $100 product vs. a $10 product (groceries aside).
In any event, as I said before, the topic of supply chain sustainability is here to stay, and the developments are definitely worth following.
What sustainable and ethical supply chain initiatives would encourage you to pay more for a product?