As a lateral recruit to the supply chain industry, I am continuously searching for opportunities to expand my understanding of the complex processes found under this enormous umbrella of functions. The European Supply Chain and Logistics Summit in Barcelona represents one of those opportunities and I was happy to be able to attend this key industry event again in 2015. Over the course of the three day summit, I participated in 21 separate supply chain and logistics workshops, keynote addresses and case study presentations.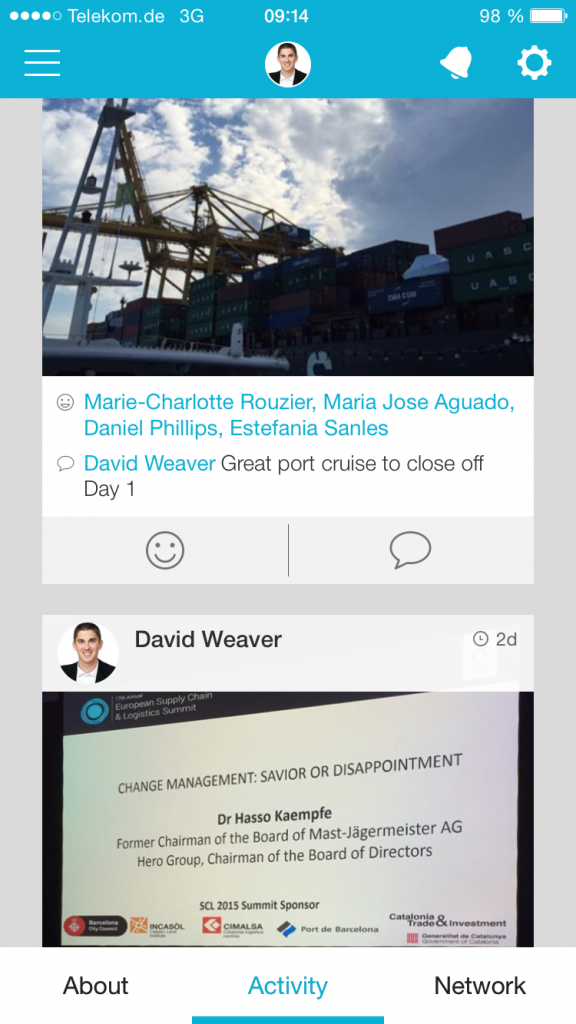 WTG events, the summit organizer, set up 62 of these diverse sessions for the 400+ supply chain and logistics experts in attendance. A new addition to this year's repertoire was the official Supply Chain Summit App, which conveniently allowed attendees to set up personalized agendas as well as review and share key learnings from various meetings. To encourage the use of the App, WTG offered a bottle of champagne to the day's top contributor. The App served as an excellent networking and information sharing tool.
Another great aspect of the event is the fact that there was always something to do, and connecting with other industry professionals was a top priority. In addition to the main program sessions, attendees were offered a range of activities, including pre-arranged 1-2-1 meetings, a tour of the port of Barcelona, breakfast briefings, think tank meetings and an evening Soiree which offered a feast of Spanish inspired food and drinks. The tour of the Port of Barcelona was a personal highlight as it served as an excellent reminder of the complex logistics processes along the container supply chain.
I maxed out my capacity in terms of the number of presentations I attended. Despite this effort, I was still only able to attend approximately 33% of the sessions. Due to the vast array of concurrent topics being addressed in the various meeting rooms, it was difficult to decide on which presentation to attend. However, based on the content I heard and the many conversations I had with attendees, I came up with a list of trending topics that supply chain managers currently have their eyes on:
Sustainability must become a sustainable part of the organization
One of the first presentations I attended was held by Keith Kenny, Head of Sustainability and CSR at McDonald's Europe. Kenny focused on the company's beef supply chain, and said beef farming, like all other businesses, is all about efficiencies. In the company's quest to buy sustainable beef, Kenny stressed the importance of creating "shared value" with its supplier network. The company has invested a significant amount of time and effort in developing relationships with beef suppliers and even created a free digital tool called "What-if," which farmers can use to identify potential cost savings as well as reduction in carbon emissions. My main takeaway from this presentation: sustainability initiatives will only work if there is shared value amongst the various links in the supply chain, and supplier relationship management is a good place to start.
But, what does supply chain sustainability mean? This question was posed by Erik Diks, Managing Director Europe at Chainalytics, in response to my question, "Where do companies that are interested in implementing sustainability initiatives start?" The definition will vary from company to company, but Diks emphasized the importance of turning to consumers to find what initiatives are important to them, before beginning the sustainability journey. He also said it is important to bring both manufacturers and retailers together to create a shared effort at reducing the footprint of the supply chain, which is in line with the "shared values" Kenny was talking about in his presentation.
In essence, it is important for businesses to take steps toward sustainable operations, but it is also important that these strategies can be sustained in the long run, and this will only happen through collaboration and the development of shared values.
Leadership and Culture
The following quote was used in at least 5 presentations I attended: "Culture eats strategy for breakfast." As a new wave of talent starts crashing onto the supply chain scene, the culture within an organization is expected to change. Generation Y, while still more of a ripple than a wave in the supply chain industry, seems to be responsible for a lot of this change. Alessandro de Luca from the MERCK Group talked about how this generation wants to be recognized for the work they do and have the feeling they contributed to a bigger picture. Generation Y, also referred to as millennials, has also proven to be a bit flighty, which means managers will have to be creative when coming up with talent retention programs. Millennials also seem to be partially responsible for the "I want it now" mindset that logistics companies are busy trying to serve. One thing is for sure: Generation Y has the full attention of supply chain managers.
Culture changes both inside and outside an organization coupled with technological advancements have the supply chain industry in a constant state of flux. Therefore, the demand for strong leadership within the industry is at an all-time high. The best lean processes, digital technologies and analytical tools could all be in place, but without the buy-in from employees and commitment from the supply chain team, these processes and features will fail.
It is important not to "suck" at risk management and mitigation
In his presentation, Martin Johansson, VP Supply at Ericsson, emphasized the importance of visibility in the supply chain, specifically when it comes to risk management. He adamantly ended the rumor that Ericsson "sucks" (his own words) at risk management. In 2000, a fire destroyed one of the company's chip manufacturing suppliers and the company suffered significant losses due to its slow reaction time and lack of contingency planning. Since then, the company has been busy mapping its supplier network on Google Maps and has teams on the ground within hours after disaster strikes to assess the damage and begin searching for alternatives. This risk mitigation technique has saved the company a great amount of money on numerous occasions.
Another excellent presentation on risk management was delivered by David Simchi-Levi, supply chain thought leader and Professor at MIT. After displaying the growing risks companies are facing in their supply chain operations, Simchi-Levi presented the practical implementation of a risk mitigation model he implemented at Ford Motor Company. At the most basic level, this model calculates a Risk Exposure Index using two main elements:
Time-To-Recover: The time it takes to recover full functionality after a disruption
Performance Impact: Impact of a disruption for the duration of the time to recover on a given performance measure.
Companies can use the resulting Risk Exposure Index to focus on mitigation plans for high-risk suppliers. More on this interesting and successful model can be read here.
More trends and quotes to note
Another topic that was mentioned repeatedly in both presentations and individual discussions was "integrated business planning." Other buzzwords making their way around the conference halls included: talent gap, drones, 3d printing, advanced analytics and digitization. During their keynote address, members from Oliver Wight conducted a live poll asking attendees to identify their most pressing supply chain challenge. Here are the results: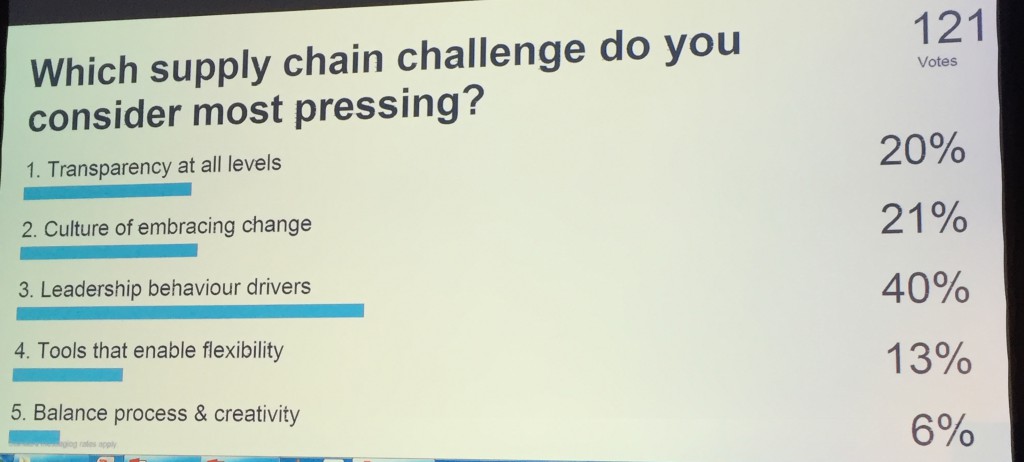 This once again emphasizes the importance of strong leadership in the execution of supply chain processes, which is probably why the majority of workshops and case studies included this aspect in some form. As I mentioned previously, without proper leadership, even the best processes will fail, which brings me to my first quote to note:
"Use the 'leading by example' test: Do I want to be my own employee today?" – Dr. Hasso Kaempfe, Hero Group
Here are four additional quotes to note that sum-up some of the main themes of the summit:
"Never waste a supply crisis to leverage & emphasize the importance of supply chain within an organization." – Alessandro de Luca, Merck Group
"Insurance is not the answer to supply chain disruption." – David Simchi-Levi, MIT
"Knowledge is power. Knowing what to do with that knowledge is a superpower." – Martin Johansson, Ericsson Supply
"If you don't manage culture, culture is going to manage you." – Mark Baker, Shingo Institute
Closing thoughts
This summit was a great way to catch up on the latest supply chain trends and connect with industry leaders from across Europe. Planning for the 2016 European Supply Chain and Logistics Summit is already underway with some exciting new changes in the works. One of those changes is expanding the target audience to include both the Middle East and Africa, thus creating the EMEA Supply Chain and Logistics Summit. This change promises to bring some new insights and perspective to the event content.
I would be happy to hear about your opinion of the event and personal highlights. Feel free to share your thoughts in the comment section below. I hope to see you next year in Barcelona!