A lot of times, when someone says "social media" the first thing that comes to mind is "Facebook" – at least when I tell people I work in social media, that is still the first response I hear. However, social media is a lot more than the top platforms Facebook, LinkedIn, Twitter, and Instagram. Any platform designed for interaction amongst people that facilitates information exchange and content sharing, falls under the definition of social media.
In some of my previous articles, I talked about what kind of impact social media can have on supply chain management. To sum-up, social media can serve three main purposes:
Strengthening supplier relations
Creating transparency
Enhancing internal processes and communication
These three points are from an article I wrote in April 2013. I believe this information is still relevant but it deals mostly with the following situation pictured below: how can we, as a company, use social media platforms to encourage supplier compliance, create transparency and enhance internal communication.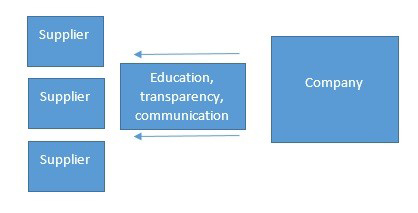 One example of a company using social media to improve supplier relations and educate business partners is Lockheed Martin. The company created its own social network of suppliers in 2013 called Supplier Wire, used for education and information exchange (a perfect representation of the graphic seen above).
That being said, many companies are turning to the top social platforms (Facebook, LinkedIn, Twitter) to bring their messages of supply chain transparency and sustainability to the forefront, resulting in the following situation:

In my opinion, companies need to be sure to have a holistic social media strategy. Providing suppliers with a place to learn and exchange information (left side of the graph) before taking a campaign to the right side of the graph will help companies avoid future headaches. Otherwise, they are risking significant backlash from consumers.
Today's consumers are paying more attention to where their products are coming from and are holding companies accountable for mistakes they (or their suppliers, or their suppliers' suppliers) make. One example of holding companies and their supply chains accountable is from the food industry. The initiative is called "Behind the Brands" and uses a scorecard to measure a company's performance on a variety of corporate social responsibility issues such as its impact on climate change and worker safety.
Supplier Management and Social Media
So how can companies help themselves avoid this backlash and improve their "left side of the graph" with social media? Aside from using social media to interact and train suppliers, there are several social networking opportunities that can aid in supplier selection and risk management. One example is Sedex, an online database used to manage ethical practices in the supply chain and encourage information sharing amongst buyers and suppliers. The core of the Sedex solution involves sharing data on labor standards, health and safety, the environment and business ethics. These factors are all included on the "Behind the Brands" scorecard and are the metrics many consumers are now using to evaluate their purchasing decisions.
Another example of how social sharing is enhancing supplier management and mitigating risk is Sourcemap. Aside from mapping the origins of products, Sourcemap provides users with a supplier social network, allowing buyers to engage directly with these suppliers. Through this engagement, detailed product mapping can be achieved.
Case in Point
One example that ties the whole idea of this article together is from Stonyfield Organic, producers of various milk products including organic yogurts and smoothies.
How Stonyfield Created their Ingredients Map from Sourcemap on Vimeo.
The company has always taken pride in its organic methods and believed in strong ties with its suppliers. Using Sourcemap, the company was able to trace the various ingredients of its products back to their origins (left side of the graph). The company has now taken their backend supplier management efforts to the market in the form of an interactive map of ingredients on their website. This represents an excellent example of a holistic social media approach to supply chain management.
Closing thoughts
The time for ignoring social media has long passed. These supplier relationship platforms and social sharing sites are not popping up out of the blue. They are a result of several factors, one of which includes the new standards and demands for accountability from consumers. Attention grabbing headlines blazing through social platforms covering apparel factory collapses and horse meat in the beef supply chain have created a new consumer awareness. So the question begging to be answered: Why not use social media to avoid these scandals, improve supplier management and transparency, and promote a job well done?
———————————————————————-
This article was originally posted on the Procurement Professionals Blog on March 11th by David Weaver as a guest contribution – Become a member of the Procurement Professionals group on LinkedIn and join the discussion!