Procurious' Lisa Malone puts forth that "Within five years social media literacy will be the single greatest factor distinguishing top performing procurement leaders from the rest." This is not because social media literacy trumps financial skills, sourcing, and/or change management skills, for example, but rather that social media literacy will "add a new dimension to these critical competencies." David Weaver puts it bluntly: "The time for ignoring social media has long passed."
The stark reality is that your competitors are using social media. They are using social media as a strategic tool to bring value to their career, their company, and to their customers. Your competitors are leveraging social media to their advantage. If you aren't able to keep up you will lose out. This is one instance where it is critical to not just keep up with the Joneses, but to pass them.
Here are three things to consider when it comes to social media literacy.
1. Recognize social media as a strategic tool
This may seem redundant, but it is not. If you are going to be successful at using and leveraging social media, it is essential that you recognize social media as a strategic tool and that it becomes an integral part of your strategy and your business. Social media can, and should, help you achieve your goals.
2. Align and integrate
Look at your goals and strategy (note that a list of goals is not a strategy) and identify challenges as well as opportunities. Contemplate where and how you could use social media to your advantage. How exactly are other brands finding value in social media? A survey conducted by Fronetics Strategic Advisors on the use of social media within the logistics and supply chain industries asked respondents to rate statements on why their company uses social media. Increasing the visibility of their company (95%), improving brand image (90%), and establishing the company as a thought leader (86%) were all identified as being "somewhat important" to "very important."
Please rate the following statements about why your company uses social media.

Respondents were also asked to identify benefits realized from social media use. The top three benefits identified were: increased customer engagement, increased market intelligence, and increased business retention.
Benefits realized by companies that use social media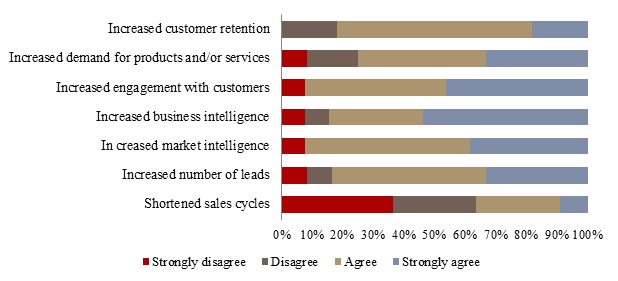 Not mentioned in the survey is the role and value of social media when it comes to innovation. David Burkus, founder of LDRLB and assistant professor of management at Oral Roberts University, points out that "in most organizations, innovation isn't hampered by a lack of ideas, but rather a lack of noticing the good ideas already there."  The conversations taking place via social media offer a wealth of good ideas – ideas that can be used to your advantage.
Companies such as Cargomatic and Keychain Logistics have already leveraged social media to create innovative companies.
3. Prioritize
There are a lot of social networks. Don't aim to be on all social networks. Instead, identify the social networks which best align with your business goals, target audience and strategic plan and use those social networks. Being everywhere and doing it poorly doesn't work. Being in the right place and doing it well will not only drive success, but will also help address the common social media management challenges of a lack of time, money, and human resources.
Interestingly, few companies are prioritizing. 77% of survey respondents reported that their company uses Facebook; however, only 15% of respondents reported it to be "very impactful" to their business and only 35 percent of respondents reported it to be "somewhat impactful." If the social network isn't helping to achieve your business objectives, there is no need to waste your time participating there.
It's time to recognize social media as a strategic tool, and time to improve your social media literacy.
———————

Guest Blogger – Kate Lee
Kate Lee is the Senior Director of Research and Strategy at Fronetics Strategic Advisors, a consulting firm located in Newburyport, Massachusetts.