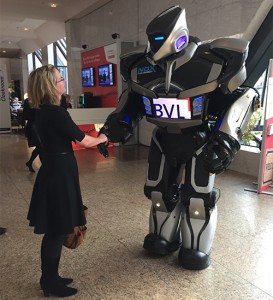 For the second year in a row, I had the privilege of attending the International Supply Chain Conference in Berlin. This was the 32nd edition of the event, which is organized by the German National Logistics Association (BVL). The motto this year: "A world in Motion". This gathering of over 3,122 logistics and supply chain professionals from 40 nations was filled with insightful presentations and workshops, and provided an excellent opportunity to catch up on the latest industry trends.
Upon arrival, it was clear what the leading topic would be, as I was greeted by the BVL robot, NOX, who was looking for a job in logistics. Here he is in action:
Aside from robots and the topic of Industry 4.0, other buzzwords and phrases addressing similar themes included digitization, connectivity and innovation. Nearly every topic of discussion had a 4.0 added to it: Industry 4.0 needs a management 4.0 strategy, to be executed by logistics 4.0 processes, and so forth. I guess this is the fancy way of saying it is time to innovate in the logistics industry.
Prof. Dr. Raimund Klinkner opened the event and highlighted the current market trends that are impacting the logistics and supply chain operating environment:
Slowdown of economic growth in China
GDP growth in the USA
Social change, including increased worker strikes and the current refugee crisis
Rapid technological change
Volatility of the German economy
Autonomous cyber physical production and logistics systems
Judging by this list, logistics and supply chain professionals have a lot on their plates. Prof. Dr. Klinkner encouraged the packed room of logistics professionals to use these aforementioned social, technological and economic trends as a competitive advantage. He noted significant growth potential for the industry through the adoption of faster, synchronous, transparent and connected logistics processes. As an example of the enormous industry potential, he mentioned that two-thirds of German retailers do not have an e-shop. With e-commerce continually on the rise, we can expect an explosion of e-shops in the coming years, creating the need for many more packages to be delivered. The logistics industry must be ready for these changes.
Connectivity
One way to stay competitive is to get connected. In his presentation, "Working Together to Move the World of Logistics in the Right Direction", Dr. Wolfgang Bernhard, member of the Daimler AG management board, highlighted the importance of real-time data in the trucking industry. He stated, "Data is the gold of the digital era". Using the example of a connected truck, Dr. Bernhard demonstrated how real-time data in the cloud can be used to improve various trucking processes, including:
Spare parts management: the truck communicates when something needs to be changed or repaired, which can reduce costly break-downs
Freight documentation: no more paper!
Key Management: send the truck keys to the appropriate driver per text message
Warehousing: more efficient processes through real-time communication
Insurance and training: Connected trucks have the ability to record and report close calls, hard braking incidents, and the like. This can create a "pay as you drive" insurance plan, with safe drivers requiring a lower premium. It also identifies situations in which drivers can use more training.
With his practical example, Dr. Bernhard stressed that connectivity is critical to business success, and the potential is endless. That being said, he also stated that the best and smartest trucks will not help the industry if they are continually stuck in traffic. With the German Finance Minister in the building, Dr. Bernhard stated there is a need for investment in infrastructure; not only in roads and bridges, but also IT-infrastructure. Connected trucks can become even more efficient with IT-connected roads, which is why he encouraged the expansion of Internet along roads across Europe.
Lessons from humanitarian logistics
The importance of connectivity and establishing a solid network was also a top takeaway from my outdoor sequence presentation at the German Federal Agency for Technical Relief (THW). The agency is financed through the government and is active both within Germany and internationally. Its main focus is providing disaster relief and civil protection in times of need. 99% of the agency's 84,000+ workers are volunteers. On the previous evening, together with the German Red Cross and the German military, the THW was recognized for their logistical efforts during the most recent refugee crisis across Europe.
The THW's modular approach to logistics challenges, expertise in coordination, amazing response times and use of interactive maps and other data to coordinate its activities, provided the logistics experts in attendance with some food for thought. In general, a lot can be learned from humanitarian organizations, and the on-site visit provided attendees with an insightful behind-the-scenes look at these processes.
Innovation
NOX was not the only robot I encountered during my 3-days in Berlin. A personal highlight was the live-demonstration of the Amazon Picking Challenge winning bot, which was created by the Technical University in Berlin:
Due to the growing importance of an innovative approach to logistics processes, the conference offered a sequence focused on industry start-ups. Six companies were invited to present their business models, one of which also presented a picking bot. Frederik Brantner from Magazino GmbH stated that within the next ten to fifteen years, he believes "pick-by-robot" will become the new norm, and his company's robot, Toru, made me believe this might actually happen. The biggest challenge will be getting the cost-per-pick price down, as temp-workers serve as the greatest competition and hindrance to adoption. Here is a look at Toru:
A second company that grabbed my attention is Food Express, an adapted version of the MyLorry business model from last year's conference. MyLorry focused on crowd-sourced last mile delivery options for commodities. In contrast, Food Express now focuses on instant food delivery. The commodities industry required long, drawn out integration phases which resulted in slow growth for MyLorry. The food industry, however, was knocking down MyLorry's doors. Founder Benjamin Pochhammer adjusted his software, and within one year, Food Express established itself as a top instant food delivery service in Germany. Pochhammer noted the importance of agility and flexibility within the logistics industry, two aspects start-ups certainly bring to the logistics and supply chain table.
The changing workforce and Generation Z
At one point or another, we have all likely heard about the talent gap and workforce concerns plaguing the logistics and supply chain industry. Baby boomers are retiring and many logistics companies are searching for their replacements. I attended an interesting stream on personnel strategies that addressed this issue. According to Prof. Christian Scholz, Generation Z (those born starting between 1990 and 1995) will be tough to win over. This generation is no longer impressed by the digital world, but rather view today's technology as a commodity. Generation Z is not interested in leadership positions and seeks work-life separation, not work-life balance. According to several studies, this generation also wants flexible, fair working hours and lots of job security.
Despite these findings, Professor Schulz encouraged his audience not to write-off the generation just yet, but instead, begin adapting to some (not all!) of their preferences. Companies can accomplish this through increased employer branding on social networks and finding a spokesperson from Generation Z to help with recruiting activities. It would be best to communicate with infographics and videos, as Generation Z prefers clear and concise information channels.
Closing thoughts
The 32nd annual International Supply Chain Conference did not disappoint. It served as an excellent platform for companies and individuals to learn from one another and expand their business networks. Next to the presentations and workshops, event organizers provided attendees with a wide range of extra activities, including a gala evening, award ceremonies, an XL after-work party (yes, logistics professionals know how to have fun), and much more. I hope to be able to attend the event again in 2016!
I would be happy to read your impressions of the event. Feel free to comment below!
What are some other industry trends you have noticed in recent months?