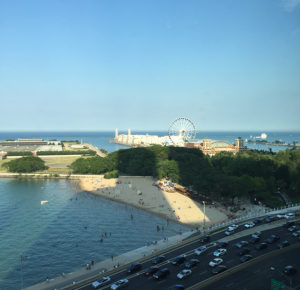 As our blog readership and influence continues to grow, we are receiving an increasing amount of requests for media partnerships at various conferences and shows around the world. We value the insights shared at these industry leading events and try to attend as many as possible in order to keep up on the latest trends and best practice strategies. Most recently I attended the inaugural event of the Supply Chain Tech (SCTech) Show and Expo in Chicago , hosted by the International Supply Chain Education Alliance (ISCEA). The Demand Driven World Conference was also held in conjunction with the SCTech show at the Navy Pier Festival Hall.
As is the case with many inaugural conferences, the event host ran into some bumps along the way, but in the end, there was no shortage of knowledge and thought leadership at this event. The following is a summary of some of the main takeaways from the SCTech Show.
Demand Driven Supply Networks
The idea of basing supply chain planning and processes on customer demand is nothing new. It is a topic that has been popping up on a regular basis at this year's conferences. As noted in a previous event summary, customers are empowered today like never before and supply chains need to adapt and become more agile to meet the dynamic demands coming from the market. The problem is that many companies are still running their supply chains based on the deep truth that cutting costs equals increased Return on Investment. As Carol Ptak stated in her presentation, a deep truth is something that everybody believes, but is absolutely false. In fact, according to Ptak, there are dire consequences associated with solely focusing on operations based on reduced unit cost. One major consequence is that people begin behaving according to the cost-cutting metrics that are being used to measure performance instead of behaving in a way that benefits the entire end-to-end system.
So what does demand driven really mean and how can it be achieved? Carol Ptak defines demand driven as "the ability to sense changes in customer demand and then adapt planning and production while pulling from suppliers in real time." She sums up the definition into two terms: "sense and adapt." I had the chance to interview Ptak after her presentation so if you are interested in finding out more about some of the key attributes of creating a demand driven supply network, listen to the interview below:

Ptak ended her presentation on the opening day of the event with a blueprint for change – a way to move from a cost cutting operation to a demand driven network:
Install the right "thoughtware" in the organization
Become demand driven
Deploy smart metrics to operate and sustain the new model.
More information on the demand driven institute can be found here.
People, People, People
I know, logistics is often about location, location, location. Where should we build our next distribution center? How should we distribute our inventory throughout our network? And so on. However, based on some of the things I have been hearing, I am beginning to see a trend pointing toward an increasing importance of people. Yes people, not robots (yet). Logistics and supply chain companies are constantly looking for ways to increase efficiency at all levels. In his presentation, Tom Gimbel from Lasalle Network argued that engaged workers can significantly increase efficiency in the work environment whether you are a 3PL, distributor, manufacturer or software service provider. The problem is that, according to a Gallup poll, only 34.1% of U.S. employees are engaged on the job. Further Gallop research reveals that a culture of engagement can lead to up to 18% higher revenue per employee. So for all those companies looking to increase revenue and efficiency, starting with the in-house workforce may prove to be a smart idea.
How can a company create an engaged workforce? Gimbel presented his 3e Management system which includes
Educate
Empower
Empathy
Internal and external educational trainings can increase engagement levels and help employees feel valued. Workers should be empowered to utilize the new skills they learned on the job and encouraged to act first and apologize later. Management should show empathy and make an effort to get to know as many employees on a personal level as possible. Furthermore, according to Gimbel, celebrating the wins, collaborating, and encouraging internal competition can go a long way toward building a more engaged and, in turn, efficient and profitable workforce.
Risk Mitigation through Avoidance of Disputes
Typically, when attending a keynote on risk mitigation, topics such as natural disasters, political disruptions, physical security of goods, and other "black swan" types of events are discussed, and mitigation tactics are presented. In their presentation, Rosemary Coates and Sarah Rathke presented a form of risk I hadn't heard about at previous events:  disputes and their resulting lawsuits. Disputes come in all shapes and sizes, but often result from expectations not being met. There are, for example, executive oversight disputes that can result in costly shareholder or consumer class action lawsuits. The example Coates and Rathke used here was Apple's blunder with their Mac computer in 1995. Apple did not adequately forecast demand for the newly released computer which resulted in tension amongst shareholders when the company could not meet the demand. This supply chain mishap led to years of problems until the company released the ipod in 2001.
Other types of disputes can sprout up across various functions within supply chain management including forecasting and planning, international procurement, IT disputes, and new product development. In general, Rathke and Coates encouraged their audience to enter agreements with great caution and ensure that responsibilities are clearly outlined when negotiating deals, whether it is implementing an ERP system, signing on a new supplier, or forecasting and planning demand. Their recently released book on the topic of supply chain disputes can be viewed and purchased here. Seeing as lengthy court proceedings can wipe out a company, it would be wise to read up on how to best avoid these types of disputes.
Startup Scene in Supply Chain Education
ISCEA had an interesting track in place that focused on startups, and gave companies the opportunity to present their ideas and products to venture capitalists and other potential investors. I sat in on one of the presentations which focused on a solution for the current supply chain talent gap. VChain Solutions created a simulation learning tool that makes supply chain learning fun and interactive:
I had the opportunity to sit down and talk with the Founder of VChain Solutions, James Vinson, who shed some light on his innovative approach to supply chain education as well as the struggles associated with starting his own company. Vinson stated that his focus was on "creating a better, friendlier supply chain so that people can make less mistakes." His simulation tool integrates gamification and simulations, which allow users to obtain hands on experience in managing supply chain operations. In his own words, VChain is making supply chain "sexy" and he hopes to attract new talent to the industry starting as early as the middle school age, and also develop the skills of current supply chain students and professionals. Find out more about VChain solutions here.
Closing thoughts
This summary represents only a portion of the thought-leadership content I came away with from this event. I will be releasing at least one other interview on the topic of supply chain trends in the coming weeks, so stay tuned! Despite some speaker cancellations and low foot traffic on the event floor, the content and thought leadership workshops and presentations were of high quality. I will be interested to see how the event evolves in its second year.