"We are running the most dangerous experiment in history right now, which is to see how much carbon dioxide the atmosphere can handle before there is an environmental catastrophe." – Elon Musk
It's not uncommon for the founder of Tesla to express himself in this way, which isn't surprising. The environmental aspect is an important sales argument for the company, alongside the unique design people love and type of lifestyle Tesla customers enjoy. Without the climate crisis, Tesla might not even exist, and the more than a century old idea of the electric car has only become a vision of the future under these new conditions.
Obviously, Musk not only has a good entrepreneurial sense for the optimal timing of technology (which has made him the richest person in the world today), but also for the appropriate tone with regards to the current state of our livelihoods. Because this is not just the alarmism of a man who makes good money in a crisis, but the current state of science. Even an expected increase in the global climate of 1.5 degrees by 2100 will have devastating consequences. Some scenarios assume an even greater change will occur.
The entire supply chain has to consider its carbon footprint
It is therefore important to reduce emissions now and to the largest extent possible. The transport sector, which also includes car traffic, has a global share of 14% of total emissions. In industrialized countries, the transport sector is of much greater importance, for example the percentage in the USA is 28% and, as the largest polluter here, it is not an entirely insignificant leverage. However, it is not just the operation of a vehicle that has to be considered: the entire supply chain should be in view, if possible. The CEO of the electric car manufacturer Polestar, Thomas Ingenlath, expressed himself self-critically on World EV Day: "Electric cars are not clean." Consumers should be aware that significant reductions in emissions when operating an electric car can only be achieved with an appropriate renewable electricity mix, and that the production of electric cars generates more emissions than the production of conventional vehicles.
If you take this idea further and direct your attention to the entire supply chain from sourcing of raw materials to manufacturing and eventually to the use of every car, be it conventionally or electrically operated, then there are other sources of emissions that are also adjusting screws for improving the carbon footprint of a car.
One of these adjusting screws is vehicle logistics. Production takes place at locations all around the world, and the vehicles are then shipped by train, ship and car transporters via ports to compounds and finally to the car dealerships. Depending on the means of transport and the route, different amounts of emissions are generated, which are usually not in focus when planning this process. In network planning such as this, costs are usually optimized. But isn't it possible to do both – reduce costs and emissions at the same time?
Case Study: Reducing emissions and costs in vehicle logistics
In a case study by the German software company INFORM, these calculations were carried out for an automobile manufacturer who wanted to transport its vehicles from plants around the world (USA; South Africa, UK, Germany) to the corresponding car dealerships on the Polish market (see Figure 1). The goal was to calculate an optimal configuration for the distribution infrastructure, i.e. to determine the following:
– which means of transport are used for which route
– and which ports are used.
Figure 1: Starting point for the case study | Source: INFORM
With regard to these configurations, however, "optimal" is not a clear term. What's optimal in terms of costs does not have to be optimal in terms of emissions, and vice versa. For this reason, different scenarios for three different target values (minimal emissions, minimal costs and additionally minimal transport times) were developed for comparison. The selection of the compounds – often accompanied by intensive negotiations – was excluded from consideration. It was assumed that seven compounds could be used arbitrarily.
Minimize emissions, costs or transport
For the calculation, some assumptions had to be made regarding the respective emission quantities per means of transport:
By ship: 18g CO2 per tonne-kilometer
By train: 25g CO2 per tonne-kilometer
Per Lkw: 120g CO2 per tonne-kilometer
An average weight of 1.5 tons per vehicle was also assumed.
On the basis of this initial data, various scenarios have been calculated, three of which are shown below as examples.
Scenario 1: Minimizing emissions
The minimum-emission scenario heads for two ports (one in Germany, one in Poland), thus making high use of relatively low-emission shipping. From the Polish port, further direct routes to the compounds are managed by rail, followed by local distribution by truck to the car dealerships. There is no alternative to truck transport on the last miles since no dealership has its own access to rail tracks not to mention harbor. The transport by truck is still relatively low in this scenario though.
Scenario 2: Minimizing costs
The minimum-cost scenario relies on the pooling of ship transport at a single destination port (in Germany), the early deployment of rail transport and local distribution by truck from the compounds to the car dealerships.
Szenario 3: Minimizing transport
The scenario for the minimum transport times largely abstains from the relatively slow rail traffic and uses truck transport both locally in Poland and for transport from the plants in Germany. However, costs and emissions are relatively high in this scenario.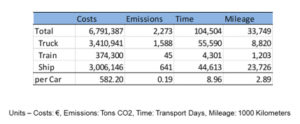 The decision is made in management
The results of the model show for this case: it is already possible today to include emissions as a factor in planning and to compare them with costs. In this way, depending on the focus or guideline of the respective company, decisions can be made that either favor costs or emissions. Or, through the transparency of the presumed figures, it also allows for compromises that take account of the considerations in both directions.
It is true that climate change will probably not be stopped with compromises, but at least such scenario models enable decision-makers to determine the best possible configuration of their vehicle logistics for the climate. And as long as the respective means of transport are not climate-neutral, all manufacturers should consider this option – regardless of whether it is an established global company with a largely conventionally operated vehicle fleet or an aspiring electric car manufacturer.