Where is my meal?
Imagine this: You receive a nicely designed flyer from your favorite restaurant in the mail, informing you that they will be serving a very special dish during one particular week. It looks so fantastic on the flyer that you feel compelled to pay the restaurant a visit.
Just after you arrive and take a seat at the restaurant, you call for a waiter. Full of expectations, you place your order. But to your dismay, the waiter tells you:
"Sorry sir, we're out of this dish."
You respond: "But it's the special meal of the week. The flyer is right here in the menu and I even received one in the mail!"
"I know, but unfortunately we ran out of the ingredients. I'm really sorry, sir. Can I offer you something different?"
You are quite annoyed and exclaim: "No, I don't want something different, I want this dish! What is going on around here? How can this happen?"
Apologetically, the waiter starts to explain the restaurant's supply chain problem:
"The guy that buys all of our ingredients underestimated the response and simply did not buy enough. The chef just informed me that we have been unable to properly prepare this dish since noon."
"But why is it still being advertised? Why don't you at least take the flyer out of the menu?" you ask.
"The owner of the restaurant is responsible for that and he probably doesn't know," the waiter remarks. Mumbling under his breath, he adds: "And I'm not going to tell him, he'll be furious!"
You exhale a huge sigh as the waiter continues: "You're quite lucky. If you had been here this afternoon, you would have waited for over an hour for your meal. The chef also underestimated today's traffic and allowed some of the kitchen staff to go home early."
By this point, you have heard enough and decide that you will never return to this sinkhole of chaos.
Integrated Planning
While this example is perhaps a little exaggerated, such issues are an everyday reality for supply chains all over the world. Demand plans do not match procurement plans, production cannot cope with actual demand or lack the necessary materials, customer satisfaction decreases due to poor service and – as a result – sales do not match the demand plan. It's the vicious circle of isolated supply chain planning.
One of the main causes of trouble in non-integrated supply chains is the focus on function. While individuals often excel regarding competence and process design within one part of a supply chain, they often lack the ability to see beyond their area of responsibility. Planning is often only based on process-related conditions and the planning results are tested against functional metrics. As a consequence, this approach to supply chain planning can lead to conflict. In some cases, related processes may even end up competing against each other.
These conflicts tend to arise more frequently depending on the size of the business and how complicated the supply chain is. At a certain point it can become impossible for supply chain professionals to anticipate the consequences of their decisions for the whole supply chain.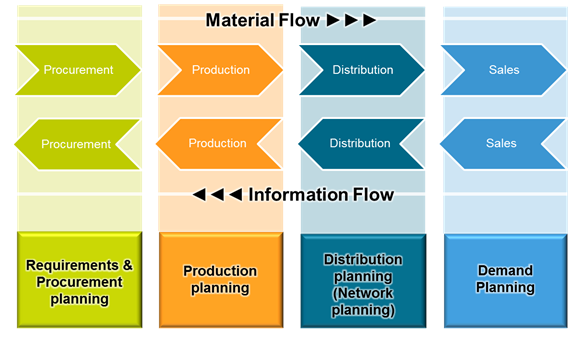 As a result, "real" supply chain optimization does not only mean the separate optimization of individual processes (see figure above), but also taking a bird's eye view and considering all existing conditions and influences. That is of course easier said than done. The following are three aspects that can help lead to successful integrated planning along the supply chain:
1. Cross-functional metrics
Each individual process along the supply chain must be aligned and focused on reaching a common goal. This means that the perceived optimum for one process does not necessarily lead to optimal results for the whole supply chain. For example, the holistic approach of multi-echelon optimization aims for minimum overall stock levels in a distribution network while achieving high service levels to the customer. Through using this method of optimization, some network nodes may have slightly higher stock levels than individual optimization might suggest. For this reason cross-functional metrics should be established as the key figures for process evaluation.
2. Collaborative Culture
While to some degree, certain areas of businesses tend to embrace a collaborative culture (e.g. S&OP planning), this does not generally hold true for all supply chain processes. One thing is for sure: Integrated supply chain optimization will not happen without the corresponding company culture. Cross-functional metrics alone will not align all participants with the new strategy. As there is often a conflict amongst the differing goals of the supply chain processes, people will not simply "cave into" collaboration. Communication amongst all supply chain stakeholders must be encouraged and supported by corresponding processes. In the end, the necessary culture has to be supported and "lived" by the CEO and other divisional leaders.
3. The right tool
Once the appropriate performance measures are in place, business must implement tools that support integrated planning. Running the supply chain from excel spreadsheets is not really the basis for efficient optimization. Companies require a tool which gathers the necessary information from all processes of the supply chain (demand planning, procurement, production and distribution), executes a holistic optimization and enables supply chain professionals to make optimal decisions based on all relevant cross-functional conditions.
The next time you visit your favorite restaurant and you receive your meal surprisingly fast, just take a moment to observe the staff. You might get an idea about how you could surprise your customer (in a positive way, of course).
In your opinion, what are some other aspects that could lead to successful integrated planning along the supply chain?