Our ISCO blog celebrated 4 years of publishing this October. One of our biggest highlights from the past twelve months came directly after we wrote our 3-year anniversary article, namely the complete rebranding of our blog. Based on the amount of traffic the site was getting, we figured the blog needed its own identity, as opposed to a standard stock photo from a database.
Since then, we have rolled out the new look across all our materials including business cards, flyers and guest blogging guidelines. Stay tuned over the next twelve months as we look to optimize the usability and overall look of the website!
Stats and Fun Facts
Before jumping into the traditional top five ranking of our most visited articles, here are some more interesting facts about our supply chain blog:
Last week, on Monday, we published article number 400! There is an even split between original content and our weekly news wrap-ups.
For the fourth consecutive year, we experienced growth in all three categories of users, sessions and page views (2015 vs. 2016):

Twitter remains our top referring social media site, followed closely by LinkedIn:
We created a Twitter account for the blog back at the end of 2015 where we tweet the new posts as well as gems from the archives. Follow us here.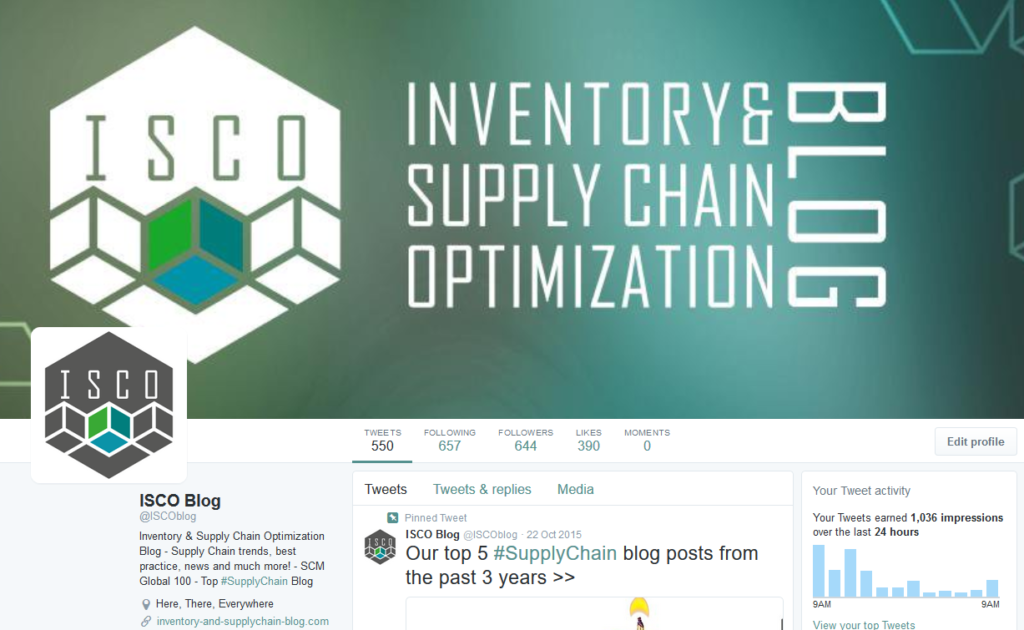 Top 5 articles from the past 12 months
Our top 5 inventory and supply chain optimization blog article list has experienced a shake-up over the past 12 months. While our number one article from a year ago still made the list, a new article has found its way to the top:
1. What can we learn from Apple's supply chain
Originally written in October 2014, this article proves there is value in evergreen content. It shows that people continue to look to Apple for best practice supply chain strategy. The article highlights some of the methods Apple uses in its supply chain operations, including tight control measures and intricate supplier relationships. Read the full article here.
2. The Amazing Supply Chain of Your Morning Coffee
Written in August 2015, this article quickly became a reader-favorite. Author Julia Severins provided readers with a behind-the-scenes look at some of the processes behind your morning cup of Joe. In general, the blogs included in our amazing supply chain series are written in a way to help draw attention to the intricate planning involved in delivering an end-product. The goal is to create interest in the multi-faceted supply chain industry. This article definitely turned some heads. Read it, along with the other amazing supply chain articles here.
3. What's Next for the Pharmaceutical Supply Chain?
This article takes a look at the top ten challenges facing pharmaceutical supply chains. Author Kristina Pelzel then presents readers with some steps that can be taken to address these challenges. At the end of the article, a best practice example is presented in the form of a case study from CPL Pharma. Read the full article here.
4. The 3 Must-Haves for Successful Inventory Management
In this blog, originally written in July 2013, we compare inventory management to a tight-rope walk, high up in the air, and emphasize the importance of forecast analytics, sound procurement practices and proper controlling mechanisms to successful inventory management. There are several other factors that lead to successful inventory management, but these three must-haves certainly serve as a great starting point for discussion, even three years after the original publishing date. Read the article here.
5. 11 Characteristics of Supply Chain Excellence
This is the only article that was written in 2016 that actually made it to the top 5 list. Using the term "supply chain" as an acronym, the article provides 11 characteristics to strive for in order to move supply chain operations from ordinary to excellent. Read the full article here.
What article did you find especially helpful or entertaining?
The Year of the Guest Bloggers
Last year, we made it our goal to feature some fresh new viewpoints on the blog. We opened up the platform to guest bloggers and, needless to say, we are very grateful for the response and contributions we received.
Here is a list of the work our guest bloggers delivered over the past twelve months:
We have at least three more guest bloggers lined up for this year covering various topics, so stay tuned for more insightful content from top thinkers within the supply chain and logistics industry. Furthermore, it is our pleasure to announce that Kelly Barner from Buyers Meeting Point will be more of a regular guest to our blog in the coming months. Read her other contributions to the ISCO blog here. If you are interested in contributing to our blog feel free to contact me directly at david.weaver@inform-software.com
Closing Words
Thank you to all of our readers for sticking with us over the years. We hope to continue delivering insightful content for many years to come. If you have any feedback you would like to share with us, contact us any time on Twitter (@iscoblog) or per email scblog@inform-software.com. We are continually looking for ways to improve, so please do not hesitate to reach out.
---
Header Photo: Alex_Po/shutterstock.com
Photos in text (shutterstock.com): cake: cigdem, apple: inxti, Network: naddi, Pharma: Kaesler Media, tightrope: Edler von Rabenstein, target: Maksim Kabakou