It is a privilege to announce Supply Chain Insights Founder and CEO, Lora Cecere (LC) as my second interview partner in our "Supply Chain Ask an Expert" series. Lora's research-based approach to tackling supply chain issues provides managers with excellent insights on what it takes to be successful in a complex operating environment. Her research topics include (but are not limited to) supply chain sensing, market-driven value networks, the evolution of predictive analytics, and emerging business intelligence solutions.
Lora has over 30 years of supply chain experience both as a practitioner at Procter &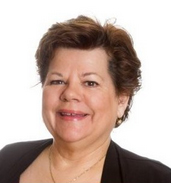 Gamble, Kraft/General Foods, Clorox and Dryer's as well as an analyst with Gartner, AMR Research and now at her own firm, Supply Chain Insights.
Lora is an active writer, contributing regularly to the CSCMP Quarterly, Forbes and her own blog, Supply Chain Shaman. In December 2014, she published her book Supply Chain Metrics That Matter, which will be included in our discussion today.
DW: Hi Lora. I appreciate you taking the time to share some of your insights with our readers. Before jumping into The Metrics That Matter book, I have a couple general supply chain questions for you. To start: What are currently the top 3 sources of risk threatening supply chain operations? 
LC: Supplier viability, demand volatility and the increasing complexity in running global operations (See Figure 1).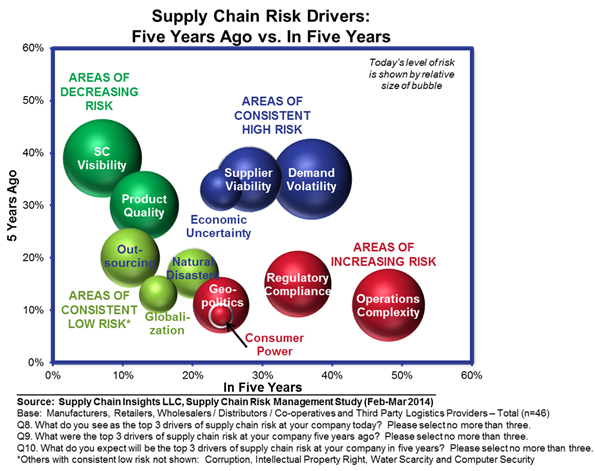 DW: What is being done to close the supply chain talent gap that has been extensively covered over the past year?
LC: Unfortunately not enough. The industry councils–SCOR, APICS, CSCMP–are consolidating and the Universities are building their own programs. However, most are backwards looking — teaching at what was possible from the technology available in the last decade. As a result, for the company that wants to make the digital pivot, they each must build their own program.
DW: Now let's get into the Supply Chain Metrics That Matter book! I just finished the book and have to say I really enjoyed how you combined the "fiction" aspect, introducing the "average Joe" supply chain manager and his team, with the hard facts based on your extensive research. Can you tell our readers a little about Joe and the challenges he is facing in his pursuit to find the metrics that matter for his operations?
LC: Joe is a fictional character that is an amalgamation of many clients. Companies are on a journey for supply chain excellence, but often they are not clear on what it means. Over 50% of companies are stuck in a functional quagmire where each function competes to drive excellence, and as a result sub-optimizes the whole. To have the lowest total cost and the best inventory, companies have to define a supply chain strategy. Each function needs to understand their role. It is analogous to a track star running a decathlon. To win, the decathlon athlete needs to be good at all of the events, but to win the total event, he needs a rating of 2-3 in each different event to win a medal. This is counter-intuitive to the traditional supply chain processes that emphasize functional excellence. Each function wants to win, and as a result, they sub-optimize total performance.
The second paradigm shift is looking at metrics as a portfolio, and understanding that the supply chain is a complex system that needs to be balanced to drive optimal performance. In the book, I share three years of research in analyzing supply chain performance. As a supply chain professional in the industry for thirty years, I was surprised how little progress we have made on corporate balance sheet performance.
DW: In the book, you differentiate between "efficient" and "effective". Can you briefly touch on the difference and tell our readers a little bit about your Effective Frontier Model?
LC: The efficient supply chain is the lowest cost per case. This is not always the most effective response. There are trade-offs between costs, customer service and inventory. Many companies do not realize that the supply chain is a complex system. When you reduce costs, the other metrics are connected in a nonlinear relationship.
DW: I minored in change management during my master's degree. I was thrilled to see the implementation of some of the theoretical change process models in this book. What role does change management play in the pursuit for supply chain excellence?
LC: The journey is 60% change management, 20% process and 20% technology. Companies spend a lot of time on technology selection; but unfortunately, not enough time on change management.
DW: The shift from inside-out processes to an outside-in, demand-driven value network involves a long change process. What are some first steps an organization can take toward becoming demand-driven and how long does such a process typically take?
LC: The journey to become demand-driven, or market-driven which is a more mature state of becoming demand driven, is a multi-year journey. It starts with mapping the demand processes outside-in. The journey requires tight alignment between the commercial and the operations teams, which is often an issue as shown in Figure 2.
Figure 2: Organizational Alignment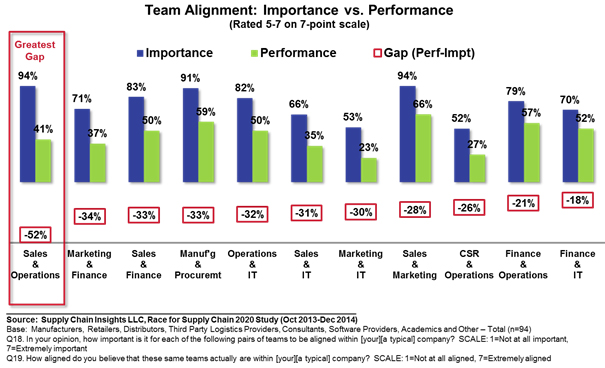 The next step is to use channel data through some form of advanced analytics to understand market demand. This allows organizations to understand the issues with demand latency and why the use of channel data is so important.
The organization then starts to use horizontal processes to orchestrate demand and supply probability from the customer's customer to the supplier's supplier. This includes trade-offs on price, promotion and demand shaping programs across functions and suppliers.
DW: What are "oops moments" and why are they important?
LC: In an organization, bad news travels slowly and good news travels fast. The unfortunate part about this dynamic is that there is great learning in understanding failure. The "Oops" moment is a formal process for the cross-functional team to map the past year and understand how they could have been more effective.
DW: One takeaway from the book is that every company needs to develop their own set of metrics to monitor and align them with corporate performance. There is no "one-size-fits-all" metric set. That being said, are there some metrics that ALWAYS matter, and if so, could you name a few?
LC: The concepts of the book are based on the model of the Effective Frontier shown in Figure 3. While the concept of the balanced scorecard has been around for a decade, companies struggle with what to measure. Most companies measure too many things resulting in confusion. The metrics that I believe always matter are growth (year-over-year revenue), costs (operating margin or EBITDA), cycles (inventory turns and cash-to-cash) and complexity (Return on Invested Capital).
Figure 3: The Effective Frontier
DW: The idea of "redefining leadership" was a recurring theme in the book. In what way does leadership need to be "redefined" to ensure supply chain and corporate success?
LC: The supply chain leader today needs to be great at influence management. They need to paint the picture, clearly define the goals and then pave the way for the team to deliver. This happens by reducing tension and aligning functions. The first step of any transformation is delivering reliable results. The second is painting the picture of the supply chain of the future to enable the business strategy and building the guiding coalition to drive change. The leader needs to ensure that the right expectations are set. Leaders make improvements slowly, over two-to-three years against a consistent strategy.
DW: For our readers in Europe, do you have any speaking commitments or have a book tour planned for the region?
LC: Yes, David, thanks for asking. I will be speaking in Barcelona at the WTG event on June 16th-18th, at John Gattornia's event in Greece on September 30th, and at the OM Partners event in Amsterdam on October 1st. I just returned from Turkey, and enjoyed speaking on the concepts of Metrics that Matter with groups from Egypt and Bahrain. I also have a number of client engagements/strategy days in Europe over the next three months.
DW: What's next on the research docket for you and your team at Supply Chain Insights?
LC: We are busy. This summer, I will add my first analyst. I am working to make the company more than about Lora Cecere. I want to make the company the destination for supply chain visionaries. By year's end, we will have published 100 reports available through open content viewing. The research that we have completed in the first three years of the company is shown in Figure 4:
Figure 4: Supply Chain Insights Research: First Three Years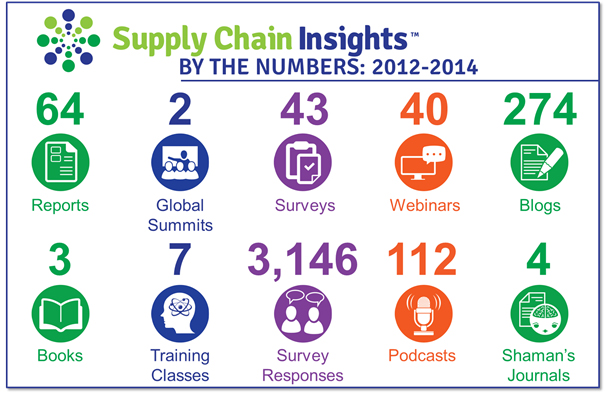 The second thing that we are working on is the continued work on the Supply Chains to Admire. We built this methodology in 2014, and we are continuing to work on the evolution of this methodology. Over the next couple of months, we will be releasing insights on supply chain progress in each industry with a look at specific company results. We will wrap-up this work in August with a final report.
The companies profiled in the Supply Chains to Admire are included in our Podcasts. We now have over 130 podcasts on our channel Straight Talk from Supply Chain Insights. Recent podcasts include Annette Clayton, Schneider-Electric, and Mick Jones, Lenovo. The podcast series is designed for the supply chain leader that is on the go, but wants to be in the know.
At our annual conference, Supply Chain Insights Global Summit, we will invite supply chain leaders that have made the most progress to present their results. We will also be showcasing digital technologies–Internet of Things, Cognitive Learning, Mobile and Social Applications, Robotics, and 3-D Printing– and asking supply chain leaders to imagine the supply chain of the future, together. The event is structured for networking to enable companies to grow together and form lasting relationships.
On the third day of the conference, we will launch our new interactive game Supply Chain Impact! This game is an experiential activity to enable supply chain learning. It enables team learning on the power of outside-in processes.
Finally, and something that I look forward to working with you on, is the launch of our new community BeetFusion. It is designed for supply chain sharing by leaders around the world. We hope that you will join us in this launch. The community will be going through testing phases through the summer for a September launch.
I look forward to working with you on a number of these exciting opportunities. Thanks for your help!
DW: I truly appreciate you taking the time to answer our questions Lora. It is an honor to have you as a guest on our blog platform! I look forward to meeting you in Barcelona and will certainly be in touch regarding BeetFusion and the Global Summit. Thanks again for your time!